Watch for the re-release of a new 4k-HD full restoration !
To be released in 2019 on Blu-Ray by Synapse Films.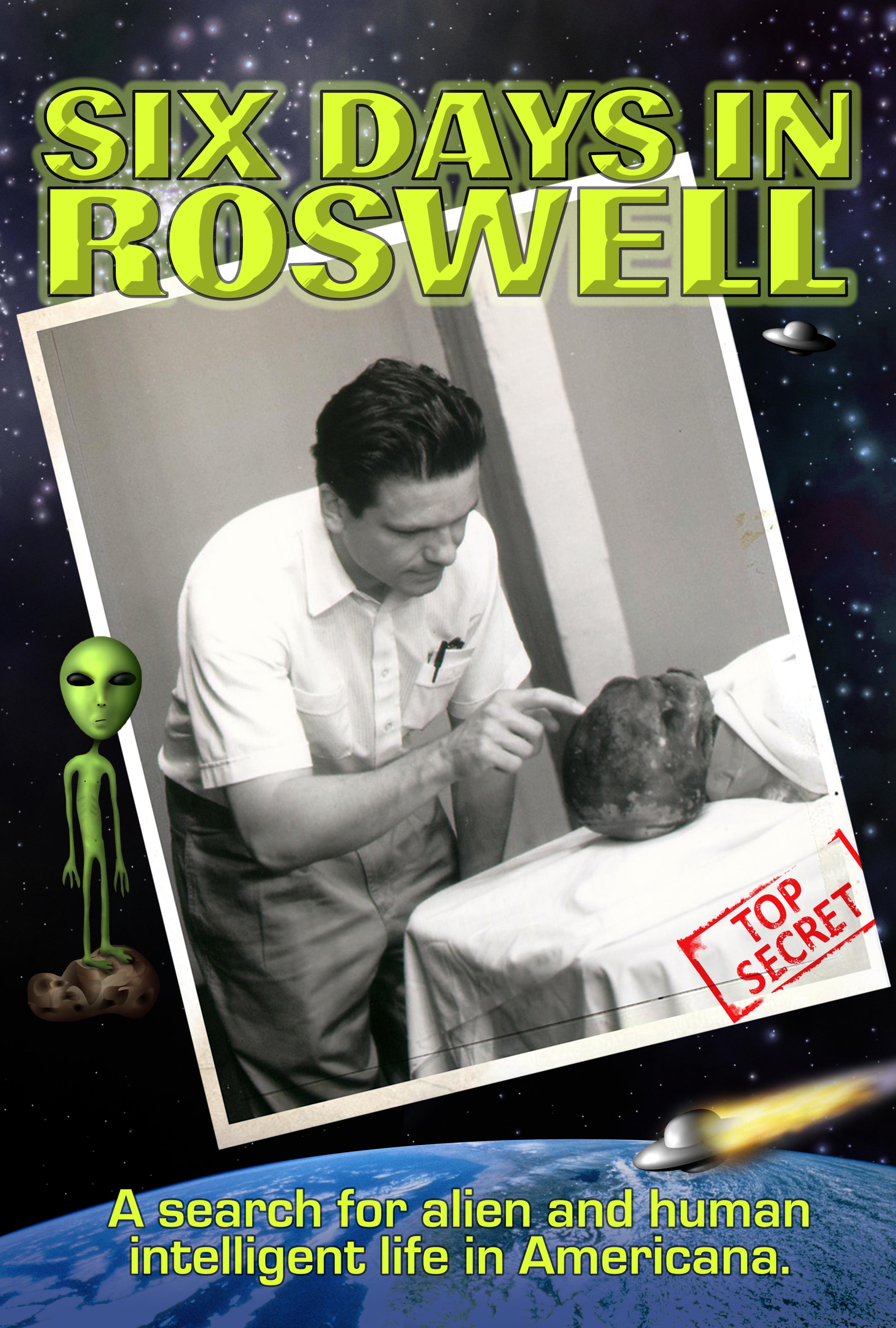 Spend six days in a rented Coachman with, two 
dogs, a film crew, UFO experts, and an overdose 
of alien abductees as alien-enthusiast Rich 
Kronfeld takes on Roswell, New Mexico, the town 
famous for extra-terrestrial encounters and 
government cover-ups.
Documentary, HD & 4k from Super 16mm, 1h 21m.
"A hilarious journey into the bizarre world of UFO fanatics…."
David Hunter, The Hollywood Reporter
"…an ideal 'weird America' entry…."
Robert Koehler, Variety
"Gut-bustingly funny…."
Tammy Swift, The Forum, Fargo, North Dakota
"…pants-peeing funny! "
Chris Parcellin, Film Threat
"Six Days in Roswell is frickin' funny. It's laugh-until-you-cry, 'holy crap that was funny,' funny."
Chuck Terhark, The Minnesota Daily
"Oh my God is Six Days in Roswell funny! I'm talking wet your pants funny. … Rich Kronfeld is just a true gem – he's one of the funniest guys I've ever seen on film. …there's some 35 minutes of deleted scenes [on the DVD], and this stuff is every bit as good as what was in the final film …."
Bill Hunt, www.thedigitalbits.com
"It'll make you laugh, cry from laughing, and even [make you] a bit disturbed. …I highly recommend this…. "
MovieInsider.com
"The truth isn't out there — it's right here in this original, odd, hilarious documentary about a gathering of UFO buffs in Roswell, NM. …You can't argue with the beauty of a UFO haircut."
Al Brumley, The Dallas Morning News
"You know you're moving in a strange crowd when Gov. Jesse Ventura…is the least flamboyant person in your film."
Peter Ritter, Minneapolis City Pages
IFP New Visions, USA Film Festival – Dallas, Sao Paulo International Film Festival – Brazil, AFI Los Angeles Film Festival, Ft. Lauderdale International Film Festival, Central Florida Film Festival, Hawaii International Film Festival, U.S. Comedy Arts Film Festival – Aspen, Santa Fe Film Festival, Cinequest – San Jose' Film Festival, Newport Beach Film Festival, Minneapolis/St. Paul International Film Festival, Fargo International Film Festival, Waterfront Film Festival – Saugatuk, Michigan, Pacific Palisades Film Festival, Laguna Beach Film Festival